In #1 Ultra Disco Stu's ElliptiGO Tech Talk I'm discussing tyre choice.
The great tyre debate seems to rumble on on the ElliptiGO Facebook Group page. The intention here is to outline the main brands and tyres used by riders that are compatible with the ElliptiGO to provide a useful resource to new ElliptiGO riders as well as seasoned riders looking to replace/upgrade their existing tyres. I haven't ridden them all so I can't provide an in-depth review on how good each one is but where I have I will chime in with my thoughts. And if you have an opinion on any of the tyres featured then why not post a comment on this post for the benefit of other readers.

All ElliptiGOs come out of the factory with Kenda Kwest (20" x 1.5") fitted as standard.
Kenda Kwest (20" x 1.5")
Described on the website as a 'performance road tyre'. It's been a while since I rode the ElliptiGO with the Kwest's - they are a solid touring tyre but with no stand out features. They roll quite well but are heavy and don't feature any additional puncture resistance which is something ElliptiGO riders tend to look for to avoid any roadside incidents. They are however the cheapest tyre in this review so if you are buying on a budget then they will serve you well.
http://www.kendatire.com/en/wheelchair/high-performance-sports/kwest/
The tyre of choice for most ElliptiGO riders looking to replace/upgrade the factory Kenda Kwest's is a tyre from the Schwalbe Marathon range. The entire Marathon range comes with GreenGuard or SmartGuard - a patented puncture resistance rubber cushion that runs inside the length of the tyre and provides great protection from glass, nails and other foreign objects out to ruin your ride. There are three main tyres suitable for the ElliptiGO in the Marathon range: Marathon Original, Marathon Racer, and Marathon Plus.

The Schwalbe Marathon Original tyre is the cheapest in the range and provides good puncture resistance with GreenGuard protection - a 3mm elastic rubber cushion.
Marathon Original tyre with GreenGuard
The Marathon Original is NOT a low profile tyre however and has a much larger depth than the factory fitted Kwest's. As a result this tyre is ONLY compatible with the ElliptiGO 8s and 11R which have a larger clearance on the front fork. The Marathon Original will NOT FIT the C series (3C / 8C).

I have happily ridden the Originals for thousands of miles on my 8S. They are bomb proof and perform well in the wet so overall they score very well as an all rounder. If you are looking for real speed then the Original is probably best avoided as they have a higher rolling resistance but for most riders the difference is only noticeable if you are really pushing it.
http://www.schwalbe.co.uk/tour/marathon/


The Schwalbe Marathon Racer is a much lower profile version of the Marathon Original which is compatible with ALL ElliptiGO models. It's described by Schwalbe as the fastest and lightest Marathon (part of their Evolution Line).

Schwalbe Marathon Racer
It features HD-Speed-Guard providing the highest level of Kevlar Guard, but doesn't in my opinion quite offer the same level of protection as GreenGuard on the Originals. As expected is has a lower rolling resistance and slightly less aggressive tread pattern than the Originals but I think these differences are subtle. Overall the Racer is a great all rounder that is a serious contender if you are prepared to compromise slightly on puncture resistance in favour of speed and a tyre that weighs half of the Originals.
http://www.schwalbe.co.uk/tour/marathon-racer/


The Schwalbe Marathon Plus is the tyre is choice for many ElliptiGO riders. It does everything extremely well, and features the best puncture resistance in the range with SmartGuard which is a major benefit for many riders not keen or confident removing the rear wheel on the ElliptiGO.
Schwalbe Marathon Plus - SmartGuard
The Marathon Plus is also the lowest profile tyre in the Marathon range too, providing the lowest rolling resistance and looks the business too. The Plus has a good tread pattern similar to the Racer which clears water fast in the wet, and provides great all round grip in all conditions. Many riders who ride the Plus speak very highly of them. They can't really be faulted.
http://www.schwalbe.co.uk/tour/marathon-plus/
As an aside if you are a bit of an Eco Warrior like me and like to do your bit for the environment then you may be interested to know that the special rubber puncture compound in the Marathon range is made partly from recycled materials.
GOing the extra mile to help the environment
In summary all the tyres in the Marathon range have great durability and last many many 1000s of miles. So you really can't go wrong with any of them. If pushed to recommend one particular tyre from this range it would have to be the Marathon Plus. They're definitely worth the extra money and you can't put a price on the extra peace of mind they provide.
Racing Tyres

Schwalbe also have a new entrant to rival the Marathon which is specifically designed for speed. Now we're talking!!! :-) The Schwalbe Durano Plus still features their patented puncture resistance technology (unusual in a racing tyre) but is very low profile and much narrower than the Marathon range.
Schwalbe Durano Plus
Available in 20" (wheel diameter) so suitable for the ElliptiGO too (20x1.1). The Durano features two choices of puncture resistance - RaceGuard, and SmartGuard. SmartGuard provides the highest level of puncture resistance and adds a little extra weight to the tyre. But with the ElliptiGO this is hardly a concern as shaving off precious ounces isn't a priority. Early reports from Carl Nanton who recently purchased the Duranos are that these are a great tyre. Fast with very low rolling resistance (so especially great for climbing hills!) and also provide great grip. They aren't the cheapest tyre but other reviews online report them being very durable and lasting a long time so cost per mile is probably comparable with the Marathons.
http://www.schwalbe.co.uk/tour/durano-plus/
The final tyre in our review is from well-known tyre brand Continental. They know a thing or two about tyres so I was excited when I came across the 'SportContact'. Like the Durano it's a very low profile and narrow tyre. The lowest profile tyre in this review in fact, and placed side by side with the Marathon Original it's half the size! It also features a puncture resistant band which works. I didn't get a single puncture in over 2,000 miles of riding.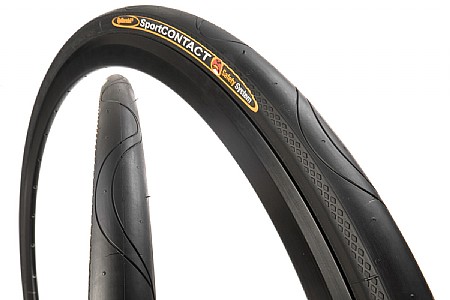 Continental SportCONTACT
SportCONTACT Puncture Resistant Band
The SportContact is a super slick tyre with the tread seemingly non-existent, but look more closely and there is a wave along the centre of the tyre which is actually extremely effective at clearing water quickly on wet surfaces. I was extremely impressed with this tyre having purchased it - it is a high performance tyre and coped very well with everything I threw at it on tough UK roads (these aren't the smooth Californian boulevards!). It is a very fast tyre too.

The disappointment with the SportContact is it's durability. Even after just 500 miles it was showing signs of wear and tear and by 2000 miles approx my rear tyre had worn through the rubber to reveal the weave underneath. I only paid £22 each for these but I still expected it to last much longer than this. In comparison to the Marathons which last many many 1000s of miles, the Marathons and even the Duranos represent much better value for money a day to day tyre. In summary the SportContact is a great racing tyre but best reserved just for this purpose and not daily riding. It's worth noting that it's not the easiest tyre to fit on the rim either.
Inner Tubes

A note on inner tubes is that the Kenda's and Schwalbe Marathon range all take standard 20" 1.5-1.75 inner tube. The Durano and SportContact are best fitted with a narrower inner tube (20x1.1-1.5) making it far easier to fit the tyre and reduce risk of ripping the tube during fitting. Note also that the ElliptiGO rims are ONLY compatible with Presta (narrower) valves.
Presta Valve
Any tubes with car valves will not fit as the valve hole in the rim is too narrow.